F1 FAMILIARISATION COURSE
The 'Live the Dream' experience was created at the beginning of the 1999 racing season. It was born out of a desire to create a means by which race fans could experience at first hand the thrill of driving a Formula 1 Stock Car on track without having to suffer either the knocks or the risks of taking part in an actual race. Coincidentally BriSCA and the BSCDA, the two regulating bodies for Formula 1 Stock Cars, chose the 1999 season to bring out a rule which effectively prevents anyone from taking out a BriSCA F1 Competition Licence until such time as they produce evidence that they are sufficiently competent to race without endangering either themselves or other competitors. Initially suitable evidence was either by experience in another Oval formula, or by completing a few laps under the watchful eye of a BSCDA Committee member.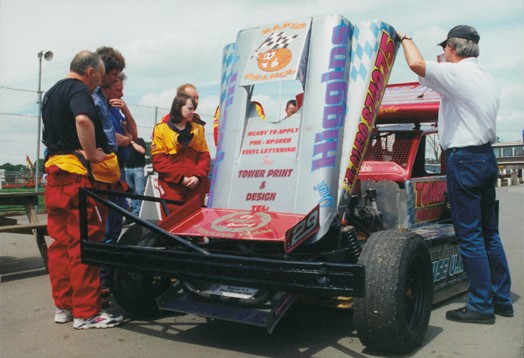 Turning the 'Live the Dream' experience into a full blown F1 Stock Car Driving School was an obvious natural progression. From early in 1999 the Certificate of Competence, as issued to all drivers who successfully complete the course, has been accepted by both the BSCDA and BriSCA as conforming to one of the criteria governing the issue of a Competition Licence, and a number of candidates from the driving school have since raced and are currently racing Formula 1 Stock Cars.

The Driving School is based at the Northampton International Raceway, and courses are held on a number of weekend dates during the racing season. Whilst most bookings are made on an individual basis we are able to take block bookings for up to ten persons on each course. Courses normally last for just over two hours and, in addition to a technical talk and instruction in track craft and safety matters, includes two solo driving sessions in two different F1 Stock Cars. All safety equipment, such as fire-proof overalls, etc., is supplied, and medical and fire service personnel are in attendance. Light refreshments are served during the half time discussion, and a certificate is awarded to competent drivers at the conclusion of the course.
The cost of each course is £130 per person. All courses must be booked well in advance, and a deposit of £50, which is non-returnable, is required at the time of booking. Gift Vouchers towards the cost of the Driving School make ideal birthday or anniversary presents, and are available in multiples of £5. All Gift Vouchers are subject to a minimum value of £10.